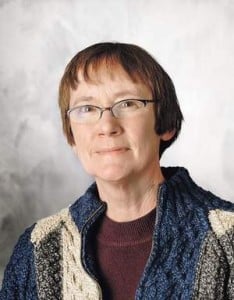 Solutions Center's Board of Directors has announced that Maggie McCullough has been named Interim Executive Director effective immediately.
McCullough replaces Lindee Kimball who served as Executive Director since 2009.  McCullough brings more than 30 years of nonprofit leadership experience to Solutions Center.
In 1996 she formed McCullough Consulting and is currently working as an independent consultant in the areas of governance, planning and management for not for profit human service agencies, long term care programs and small businesses.  From 2003 to 2007 McCullough served as executive director of Bethany House homeless shelter and Friends Aware of Violent Relationships, a domestic violence advocacy and shelter program.  Under her leadership, the two organizations combined in 2007 to form Solutions Center.
As Interim Director, McCullough will oversee an organization that nurtures the dignity of the human spirit by providing safety, offering support, and restoring hope to victims of domestic abuse and individuals affected by homelessness.  Solutions Center staff is made up caring and dedicated professionals, on hand 24 hours a day, 7 days a week, 365 days a year to work closely with those in crisis.
McCullough holds a Bachelor's degree in Medical Technology from UW-Oshkosh, and a Master's Degree in Health Services Administration from Central Michigan University.
She has served in various governance and executive leadership roles for the following organizations: Bethany House of Hospitality, Friends Aware of Violent Relationships, Habitat for Humanity of Fond du Lac County, Big Brothers Big Sisters of Fond du Lac County, Free Spirit Riders, Creative Care Options of Fond du Lac County, Nazareth Heights Retirement Home and the Waupun Rotary Club.  Special areas of expertise include strategic planning, board evaluation and development, grant writing and interim management for organizations in transition.
She can be reached at the Solutions Center offices at 920-923-1743.
About the Event Join us at Korneli's on the Ave on October 6th for an entertaining night filled with music, comedy, laughter, food, drinks, raffles…
Open for bids September 1st – September 30th through our Facebook Page. All bids must be done through our Facebook page in these simple steps: Find…
Open for bids August 1st – August 31st through our Facebook Page. All bids must be done through our Facebook page in these simple steps: Find…